Main content starts here, tab to start navigating
Menus
Slide 1 of 3
Slide 2 of 3
Slide 3 of 3
Available Friday & Saturday 5pm-9pm!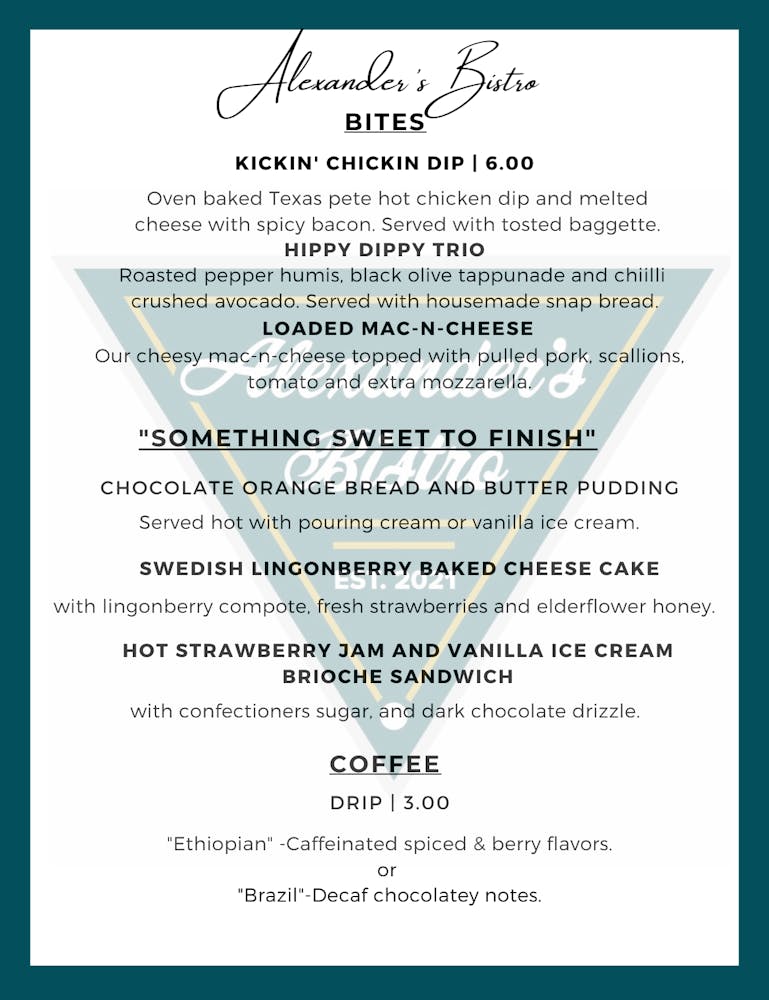 What's new to Alexander's Bistro?
-DRINK-
LocalmDraft Beer on tap!
Mega Pint on tap in a frosted mug-$8
(Pint in frostd glass or to-go 20 oz also available $4)
-FOOD-
"Bialy"-$5- Bagel with carmilized onion and poppy seed filling.
"Cheese & onion pasty"-$6- Delicious flaky puff pastry filled with onion and cheese.
START YOUR DAY WITH A FANCY FRAPPE' & PASTRY-$11
-LIGHT BITES-
FREE pretzel w/ stone ground mustard and beer cheese on Saturday w/ purchase of any adult beverage!
Enjoy our newest sharables THURSDAY-SUNDAY.
(Served 11 until-pretzels only available on Saturday!)
Download PDF
"Simple food done right!"
Try these tasty light bites, designed for sharing.
Kickin' Chicken Dip

Oven baked Texas Pete hot chicken dip w/ melted cheese & spicy bacon. Served w/ toasted baggette.

$6

Pretzels with beer cheese and mustard

2 Pretzels with beer cheese and mustard (Saturday only)-buy any adult beverage and get this free!

$5
Served 8AM-3PM WEDNESDAY-SUNDAY
Main
Slow Start Scramble

Slow scrambled eggs, white cheddar, shallots, alexander bacon & scallions on a fresh brioche bun.

$12

Sausage Roll

Seasoned sausage wrapped in a puff pastry.

$6

Breakfast Quiche

Egg, bacon, sausage, tomatoes, mushrooms baked in a puff pastry case.

$6

Scottish Eggs

Hard boiled egg wrapped in sausage, bread crumbs & fried.

$7
Served All Day, WEDNESDAY-SUNDAY!
* All bread & pastries made in house daily
Download PDF
Kanelbullar

Soft cinnamon buns with a hint of cardamom & pearled sugar.

$5

Balooberry Muffin

Delicious fluffy blueberry muffin with crunchy topping.

$5

Monster Cookie

4 oz. chocolate chip cookie.

$4

Housemade Biscotti

(Ask for flavor of the day)

$4
Served 11AM - Until Thursday-Saturday (Served with one side)
Download PDF
Main
Served w/ one side
Roast Beef Sandwich

Alexander's tender roast beef on a house baked toasted roll, served with provolone, horseradish & onion marmalade.

$15

Spicy Turkey Club Sub

Shaved turkey sandwich with jalapeño bacon, lettuce, tomato, mayo, oil & vinegar, served on house sub bread.

$12.50

Pork Brisket Sandwich

Slow cooked, delicious brisket, stone ground mustard, caramelized onions topped with jus on grilled sourdough.

$16

Chicken Salad Sandwich

Creamy chicken salad with celery, golden raisins & tarragon.

$11

Asian BBQ Sandwich**

Jackfruit topped w/ farmers market organic radish kimchi. Served on sourdough bread. (vegan**)

$11
Side Dishes
$5 / Per side
Organic Mixed Greens Salad

Served with marinated feta, bacon & extra virgin olive oil.

Chicken Salad

Creamy chicken salad with celery, golden raisins & tarragon.

Fresh Fruit Bowl

Cheesy Mac-N-Cheese

German Potato Salad

Today's Soup with Bread

(Ask for flavor of the day!)
SERVED WEDNESDAY & THURDSDAY 8AM-3PM
FRIDAY & SATURDAY 8AM-9PM
SUNDAY 8AM-6PM
Download PDF
Coffee
(Served All Day) | Roasted By: Cup to Cup (12 Oz. Hot or 16 Oz. Iced) | Large +$.75 16 Oz. Hot or 20 Oz. Iced +$.50
Drip Coffee

12 oz. hot drip coffee (Etheopian, caffeinated or Brazil, Decaf)

$3

Espresso

Savannah Sunshine Roast

$2.75

Americano

Doppio with shot of hot water.

$3

Cold Brew

Savannah Sunshine, dark roast & Etheopian med. roast blended and chilled for 24 hours.

16 oz. $5.50

+ Espresso $6.50

Latte

Doppio with 10 oz of steamed milk and froth.

$4.50

Cafe Au Lait

Drip coffee with steamed milk.

$3.50

Cappuccino

Doppio with 6 oz frothed milk topped with cacao.

$4

Cortado

Doppio with 4 oz. steamed milk.

Macchiato

Doppio over of frother milk topped with foam and caramel drizzle.

$3.75

Make it a frappe or slushy

add to any beverage

$2

Citrus Berry Smoothy

Strawberry, blueberry, Pom/Cran juice, Handsqueeze oj & lemonade mixture.

$9
Fancy Caffeine
$7.00 / Each | 16 Oz. Hot or 20 Oz. Iced
White chocolate mocha

White chocolate mocha.

$5

White chocolate & vanilla latte

White chocolate & vanilla latte.

$5

Cinnamon & Honey Latte

Cinnamon & honey latte.

$5

Coffee shooters

Sample all 4 flavors from our "Fancy Caffeine" list in single shot-10 oz. iced versions.

$20

Mocha

Mocha with organic chocolate drizzle.

$5
Tea
(Locally Sourced) | $4 - $12 Oz. Hot or $16 Oz. Iced | $0.50 - $16 Oz. Hot or $20 Oz. Iced
Hale Tea Co.

-Earl Grey -Matcha -Butterfly pea -Secrets of India chai

$4

Chai Latte

$5

Make It Dirty $2.75

Fairy Juice

Butterfly pea, brut & hand-squeezed lemonade, for a magical color-changing experience

21+ $15

Make It Virgin $8

Add-Ins

*We are a nut free faciality!

Per item $0.50

Flavor: Caramel | Vanilla | Lavender | Chocolate | White chocolate | Cinnamon | Strawberry | Blueberry

Sweetner: Agave | Honey | Simple syrup

Topping: Cold Foam | Whipped cream | Marshmellow | Caramel drizzle | Chocolate drizzle | White chocolate drizzle

Dust: Cacao | Cinnamon | Cayanne

Milk alt: Oat
Beer & Wine
(Local Beers By: 3 Taverns)
DRAFT

IPA (local)

pint $6

mega pint $10

6 pack- 12 oz

(12 Oz)

$15

Short

(12 Oz) -Creature comforts-"Athena Paradiso" (Berliner Weiss) -..."Mt.Jam" (lager) -New Realm-"Haze Dripper" (IPA)

$6

TALL

(Pint) -Scoff Law-"Basement" (IPA) -Bearded Iris-"Homestyle" (IPA) -Creature comforts-"Classic city lager"

$9

Guinness

TALL

$9
"Line 39" | $7 / Glass | $11 / Half | $22 / Full
Wine

White Wine 2019 Sauvignon Blanc | Chardonnay Red wine 2017 Pinot Noir | Cabernet Sauvignon

$7 - $22

glass $7

half btl. $11

full btl. $22

Bubbly

Champagne (brut) Rose'

Rose' $12 - $22

Brut $12 - $25

Maximosa

Brut & hand-squeezed OJ.

$20

Rose' Sangria Tonic

Rose, sparkling water, rose syrup, topped with lemon & white sangria cubes.

$10

Make it a slushy $12

Make it Virgin $4
Beverages
Sparkling Water on Ice

$1.75

Spritzer

(Adds flavor)

$2.25

Soda | Sweet Tea | Lemonade | Chocolate Milk

(Coke, Diet Coke, Sprite)

$1.75 - $4

Lemonade Slushy

$6.50

Hawaiian Ash Water

$3

Hot Cocoa

$5